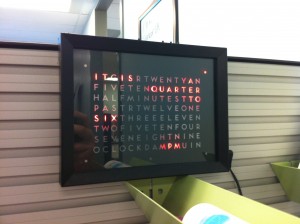 What is it? The Word Clock is our version of the perennial favourite. It lights up different letters to form words that tell you what time it is.
How do I tell the time on this thing? Just read the illuminated words!
Where can I get the source code? Source code is available at our BitBucket repository, at http://code.surrealitylabs.com/wordclock.
Where can I get one? You can't, yet - it's still in development. We're working on Version 2 as a kit.
You can, however, build one of your own.
How do I build my own? No details yet, but the PCB layouts are in the source code repository. I'll be doing some videos about assembly of this version.
How does it work? I haven't written that up, yet - hopefully soon.
Related posts[posts-by-tag tags="WordClock"]
Photos [AFG_gallery id='8']